1. Submission notification
Once a form has been submitted, an email notification will be issued to the person who is first in the workflow process that is associated with the form. That email will include a link to review the form (the first link highlighted in the image below). This is link is associated with the person and role of the recipient and should not be forwarded to anyone else. A read-only share link is also included in the email, and in the review process. This share link can be copied and circulated to others, where appropriate, for consideration.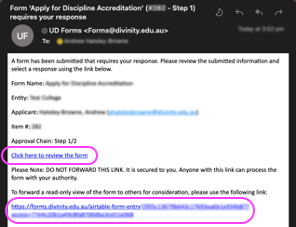 2. Submission review
After clicking on the 'Click here to review the form' link you will see displayed a four part form.
The first section shows an overview of the form submitted.
You can proceed through the review process steps with the "next step" button. You may return to previous steps by selecting "previous step". You may print the whole form at any time by selecting the "print form" button.
The second section shows the information submitted in the form
The third section shows the workflow history of this form. It includes each step that the form has been through.
3. Your decision
The last step is for you to select your decision, and provide any internal notes.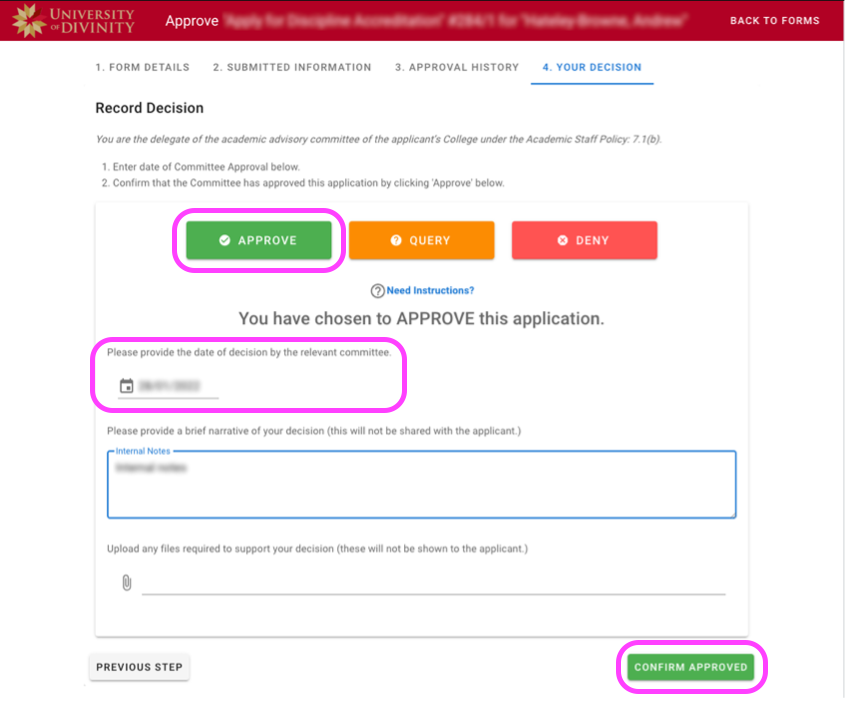 Select the "Approve" button to approve the application. This will then require you to register the date that the decision was made by the relevant committee.
The "Query" button will return the application to the submitter for further development. This action will then require you to provide feedback which will be sent to the applicant.
The "Deny" button will deny the application.
Once you have selected your decision and filled out the necessary information, use the "Confirm Approved"/"Confirm Queried"/"Confirm Denied" button to complete your review.
If approved, the review process (step 4 to 6) will repeat until the final reviewer completes their review.
The applicant will not receive an automatic notification of the result of their application and must be contacted manually.
Staff forms are submitted directly by the applicant. Authority forms are submitted on behalf of an applicant by an authorised submitter.